Music
If you were looking to head into September with some serious chills, then let Marvin serenade you into oblivion. This isolated vocal track...
Music
I may not be the most educated person when it comes to hip-hop, but the album I reviewed this week gave me a little taste of a genre I...
Beauty
Okay, I have been SO into temporary tattoos lately. And luckily when Hello Kitty just isn't cutting it, I can head over to Etsy to get my...
Gotta love these photographs by Mark Seliger shot for Vanity Fair of the cast of Freaks and Geeks twelve years after the show ended...
Music
Allan Young makes clocks out of recycled materials at his Etsy shop Pixelthis.  From old bike parts and vintage record players, to...
Imagine that you have your very own personal shopper. This personal shopper travels all over the world searching antique and vintage...
Check out this new promo video from our friends at Revive for Dr. Romanelli's Motor city Meltdown...
Lauren Rassel is a Detroit local fine arts and fashion designer. Rassel's work has recently been worn by artists such as Natalia Kills and...
Sara Panza (first photo) is local Detroit photographer. Panza's work has been used by To Write Love On Your Arms, Invisible Children...
As of late, Detroit has peeked the interest of young travelers all across the map. Emily Doerr a local Detroit resident, has decided to...
Audrey Pongracz is a self-taught Detroit painter whose work has been shown all over the US.  "Art should be a viewing experience," she...
If you live in Detroit and you don't know about Nicole Muster (top photo), then you are seriously missing out! When asked about her work...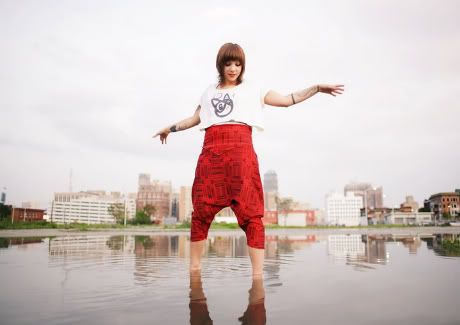 Music
Rai Knight is a Detroit-based indie pop artist who is trying to make a difference in the land of the rising sun. Knight has offered the up...
Holli Streetman (top photo) is a native Detroit photographer who is known for her creative and provocative photography. When asked about...
Music
Detroit local electro pop project PHANTASMAGORIA is making waves in the best way. Happy couple Chris Jarvis and Lianna Vanicelli...
Seventy7ReelOnline from Marc Ruiz on Vimeo.
Music
If you are a band in the Detroit music scene then you know about Seventy7 Productions! Seventy7 has only been around for under a year but...
Black and Goldsprints from Rick Mauck on Vimeo.
In the midwest, Goldsprints are THE BEST way to get your bike on in the winter!  A Goldsprint is a bicycle rollers racing and social...
Twenty eight-year-old Detroit photographer Ruth K Synowiec (top photo) has been rocking my mouse finger, clicking through her portfolio...
Juxtapoz has teamed up with non profit organization Power House Production to work on neighborhood stabilization in Detroit, by...
Music
Here is some more work from the guys at REVIVE and THE WORK featuring fashion designer Tisa and Detroit's very own BIG SEAN !...